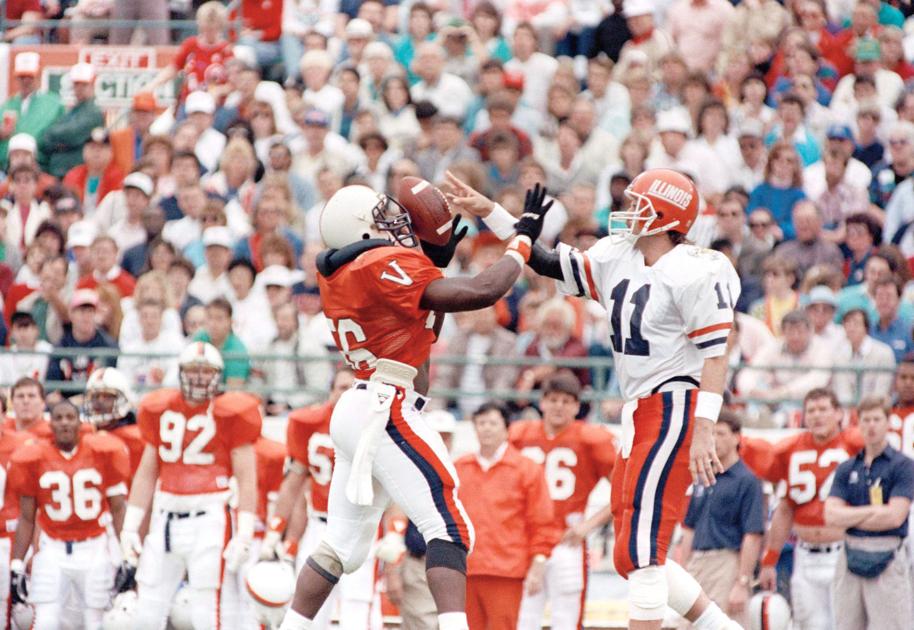 Descent of Memory Lane at the time of the Tatelines: 1990 | Sports
During Loren Tate's six decades of service as a reporter for The News-Gazette, he has chronicled a myriad of competitions and Illini sporting events for the Champaign-Urbana community.
As part of The News-Gazette's special section on his Hall of Fame, we have been asked to compile each year a list of notable Illini experiences that have occurred over the past half-century of job of Tate.
Over the next 55 days, we'll look back at some defining moments in Illini's story. Following: 1990
January 1st : In Orlando, the Illini football team beat Virginia 10-1 by a score of 31-21. It was quarterback Jeff George's last college game. On April 22, he became the first overall pick in the NFL Draft.
April 16: Jean Driscoll of Champaign won the women's wheelchair division of the 94th Boston Marathon in 1: 43.17. She went on to win six more marathon titles.
June 27: Three Illini basketball players were among the top 42 selected in the NBA Draft. Kendall Gill was fifth, Steve Bardo 41st and Marcus Liberty 42nd.
September 1st : Richard "Itch" Jones has been named the head of the Illinois baseball program.
September 4: Huff Hall made its debut as the home of Illini volleyball. UI Basketball's famous "Whiz Kids" were on hand for the special occasion.
September 15: During its centennial season, a large group of pre-1950s Illini players gathered to watch the 1990 team come together and beat No.11 Colorado, 23-22. CU was going to be named national champion.
September 22: Against visiting southern Illinois, Howard Griffith became the first player in NCAA Division IA football history to score eight touchdowns in a single game.
November 7: Although it has declared Illinois not guilty of any of the initial charges against the men's basketball program, the NCAA has announced severe penalties against the university for what it called "lack of control. institutional".
November 24: Howard Griffith amassed 263 yards in a 28-23 home win over Northwestern. The victory gave Illinois a share of the Big Ten title.
December 22: LSU, ranked tenth, with sophomore center Shaquille O'Neal, left the Assembly Hall with a 102-96 loss.