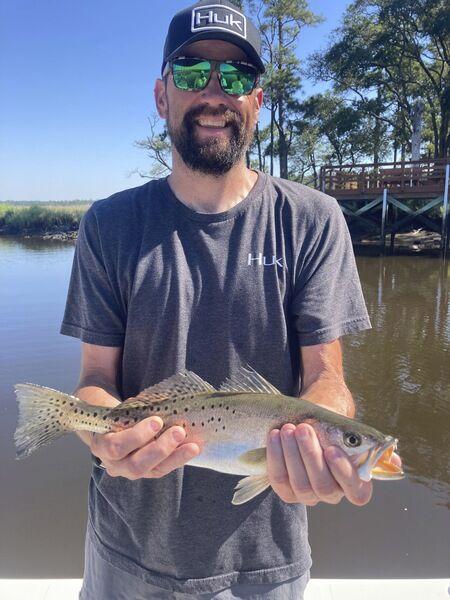 Finally get to scratch that peach itch | Sports
It's been a long spring gobbling season – several states and weeks in a row made me drag my tongue out. To be frank, I was tired of traveling and needed a rest. In my gobbler hunting tunnel vision state, the fishing season has crept on me pretty quickly. Here it's June and I've only been down the river once this summer and haven't even started my annual summer walleye fishing quest. With my turkey vest and shotguns stowed away in a safe place, my mind quickly turned to the fish and, in particular, my favorite fish to pursue.
The fastest way I could think of to get started and scratch my fishing itch was to call a dear friend of mine, who makes a living running anglers to fish the estuaries off shore. off the coast of North Carolina, and ask him if I could spend a day hunting fish with him. His response sealed the deal and the target species was set on the Carolina Grand Slam – a challenge to catch rockfish, speckled trout and plaice on the same day.
Frankly, I don't really care about slam as much as I do rockfish fishing. They just have my number and they take up a lot of my coastal saltwater fishing memories.
Rockfish hold a dear place in my heart because they remind me of Smallmouth Bass – my first true love fish and the one that connected me to my entire life. Growing up on the banks of a large West Virginia Smallmouth River, with family members who loved to fish, Smallmouth Bass simply reminds me of my home.
Redfish attack bait like a small mouth. They fight and never give up like little mouths. And, often they hide to ambush their prey in areas like smallmouth bass in home rivers. They both use the current and the structures in the water to live, hide, and have their next meal.
It may seem strange to compare a freshwater fish that lives in our rivers to a fish that lives in the ocean and estuaries of streams. But I have found the two species of fish to be very similar and even the fishing gear I use to catch the two species is similar. Although the lures and baits are somewhat different, the method of fishing them is very similar.
The rockfish cooperated right off the sidelines and we quickly had a big fish or two on our score sheet. Then the speckled trout decided to join in our fun and two dandy trout were caught in no time. By standard, the flounder is always the hardest to bite. After several attempts, the flounder acted as always – speechless. Finally, I dragged a bait along an oyster shell, a bottom of mud, and I received a blow to the end of my rod. A bit harsh flounder and easily slipped his head into our net and landed without much effort.
This time of year, my dreams switch from sunken turkeys to the fish that haunt my thoughts – smallmouth bass, brown trout and rockfish. Until this fall, the turkeys will just have to wait their turn.