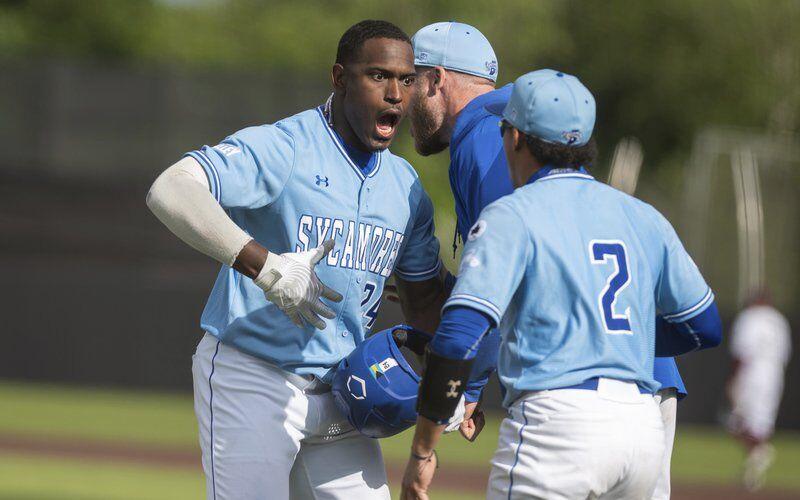 Sycamore trees stay alive at MVC tournament with sixth round wave | Indiana State Sports
Indiana State baseball coach Mitch Hannahs perfectly summed up the situation for the Sycamores when they lost five years after the third inning of a Missouri Valley Conference baseball tournament playoff game against Southern Illinois at SIU Itchy Jones Field.
"There was definitely eight of us. There is no question," Hannahs said.
Not only were the Sycamores struggling on the pitch, but potentially off the pitch as well. There have been upheavals elsewhere in the varsity baseball world that have tightened the NCAA's regional at-large bubble and SIU itself could steal an ISU coveted offer if it were able to win the MVC's general offer. .
The situation was dire, but just when the situation looked to be the worst, the sun rose over the Sycamores.
The ISU have scored nine straight runs, including a six-point sixth inning, and the Sycamores kept themselves alive in the MVC tournament with a 9-7 victory that knocked out the Salukis.
The sixth round of Ellison Hanna II's Grand Slam was what put ISU in the lead, but it was one of many that saved the Sycamores' bacon.
ISU will have to beat Dallas Baptist twice on Sunday to win the MVC's automatic bid. The first game is at noon EDT. If the ISU wins, the teams replay at 4 p.m. The ISU lost 10-1 earlier to Dallas Baptist on Saturday.
The task will be daunting – although the ISU will do the same in 2019 against DBU.
Before the ISU had a chance to repeat this feat, it had to outlast the SIU in a remarkable match. It certainly didn't start well for the Sycamores.
ISU starting pitcher Tristan Weaver struggled. He posted a walk and two singles before recording one out – the last of the singles hit in a race. Weaver then threw two wild pitches in succession to give the Salukis a second inning. A steal sacrifice later in the inning would put the Salukis to a 3-0 lead.
Saluki's lead climbed to 4-0 when Tony Rask, the SIU 9th hitter, hit a solo home run to the left. It was 5-0 at the end of the third after a single from Ian Walters RBI.
Then the sky started to clear – literally as the sun emerged after three days of blackness from Carbondale, but figuratively on the plate for the Sycamores.
The Sycamores won the start of SIU Mike Hansell in the fourth. Grant Magill passed the wall from center field and Dominic Cusumano followed with a two-run home run to the right. ISU had a beach head because it reduced its deficit to three. ISU reliever Matt Jachec, who pitched three save innings at the shutout, helped hold the beach boss down.
The sixth round started steadily and ended with thunder.
The singles of Josue Urdaneta and Grant Magill were followed by a walk designed by Cusumano. Then back-to-back RBI singles from Sean Ross and Jordan Schaffer – Schaffer came in via an epic nine-pitching game – tightened the SIU's lead to 8-4.
Next was Ellison Hanna II. On a 3-1 count, the left-handed hitter reached the bottom of the zone and caught one. He lined him up over the fence for a go-ahead grand slam. ISU had eliminated its five-point deficit and was leading 8-5.
CLEAR BASES FOR A BIG SLAM‼ ️Ellison Hanna II sends a depth to right field and @IndStBaseball takes an 8-5 lead. pic.twitter.com/zXrownX8HG

– Missouri Valley Conference (@MVCsports) May 29, 2021
"I was in a situation where I just wanted to tie the game. I wanted to put a point on the board for a tie, but thank goodness it's gone," said Hanna.
The explosive explosion was almost secondary to the turmoil in front of the ISU canoe. Hanna stopped to watch the Grand Slam, then, halfway to first base, threw her bat – the barrel first – away from the ISU as her teammates celebrated wildly. Hanna's toss drew intervention from the referee squad, but did nothing to dampen enthusiasm for what was the tournament's most important four-bagger for the Sycamores.
Tired: flipWired bat: anything@IndStBaseball pic.twitter.com/KpfkXUD112

– Missouri Valley Conference (@MVCsports) May 29, 2021
"I looked in the canoe and saw Coach Hannahs. The only reason I threw the bat was I saw him come out of the canoe to see if it was missing. I saw it. her excitement and it got me pumped, "Hanna said.
Usually ISU doesn't like to show that kind of emotion, so what did Hannahs think of it?
"It seemed like there was emotion and tension coming and going. I think the two teams were fighting a bit against each other. I don't want to see that… but I gonna let it slide on this one, "Hannahs mentioned.
As big as Hanna's Grand Slam was? Jachec may have provided the dagger … almost by accident.
The SIU responded in its half of the sixth by charging the bases without withdrawal. SIU's JT Weber, a .320 hitter with 15 homers.
Weber hit a howler in Jachec. The ball hit Jachec's abdomen, rolled around his jersey and fell into his glove. Jachec had the presence of mind to turn around and pass Gray Epps from second base for a crucial and unusual 1-4 double play. A batter later, Tyler Grauer struck out Tristan Peters. The Sycamores escaped loaded bases with no outs and no damage.
WOW 👏👏👏 Hat tip to Matt Jachec for this piece of @IndStBaseball📺https: //t.co/UeiillMbpa pic.twitter.com/aDAfNVYFnR

– Missouri Valley Conference (@MVCsports) May 29, 2021
"The bullet grabbed me. It was in the right stomach. I just reacted and trapped it. Immediately I was like, 'There are guys where they shouldn't be', so I had to throw it somewhere. It was a dream scenario with loaded bases and no outs, "said Jachec.
Hannahs thought the double game was the turning point.
"I thought that was the turning point. I thought it had them deflated. Not only that, but he hit a practice line right on him. You have no choice but to catch him or You're in the hospital. He grabs that thing and gets the double play. That moment leading up to the round really changed the game, "Hannahs said.
ISU wasn't entirely clear – Peters hit a two-run home run in Grauer's ninth to make it interesting, but the senior pulled Ian Walters out to secure an emotional victory for the Sycamores.
To repeat the feat achieved by ISU in 2019? Hannahs wants more twisted numbers.
"We have to do more offensively. We didn't do a lot against DBU when we played them. If you come back twice you have to score points, which we did in 2019. You have to get eight to ten points, Hannahs said.
An intriguing factor that was not a variable in 2019? The rain delay until Sunday means ISU ace Geremy Guerrero could be available to pitch. Then again? The same will be the case for DBU ace Dominic Hamel.
• Dallas Baptist 10, Indiana State 1 – Dallas Baptist starting pitcher Luke Eldred, son of former Major League pitcher Cal Eldred, had a 1.96 ERA entering the contest for the right to qualify for the MVC championship round. He would be just as dominant as his numbers suggest.
In just six innings of work, Eldred allowed a hit – a Jordan Schaffer homer – and struck out 11 Sycamores.
"I threw a majority fastball but mixed up my change against lefties and got a few double plays, but locating my fastball really helped me," Eldred said.
ISU's only success came when Schaffer broke through the fence in center field for a home run early in the sixth. Other than that, it was thin picks. The ISU had two double plays, and in just one run, the seventh, they put the runners in the scoring position.
Still, the Sycamores were in the game well in the game thanks to another good relief performance from Will Buraconak.
DBU (36-15) took an early lead over starting pitcher Javin Drake. Jace Grady hit a solo home run in the first and MVC Player of the Year Jackson Glenn hit a two-run explosion to take him to 3-0.
Enter Buraconak, who held the Patriots off the board for 3 1/3 innings. He would have another set as well, but ISU struggled with two strikeouts in the seventh with the game still 3-1.
Glenn hit a right ball halfway through. ISU right fielder Ellison Hanna II was playing deep against menacing Glenn. Second baseman Josue Urdaneta came out of his position to try to line the ball up and Hanna held on. The ball fell and Glenn scored a brace.
On the next at-bat? Grady hit a ball deep in the middle. ISU center fielder Sean Ross, anticipating contact with the wall, jumped to retrieve the ball. He put his glove on, but he fell. Town scored and DBU was off for the races. The Patriots scored two runs to make it 5-1, then added five more in the eighth and ninth as the ISU saved their field for Saturday's game two against southern Illinois.
Game 1
DALLAS BAPTIST (AB-RH-RBI) – Ville rf-lf 4-2-1-1, Glenn 2b 6-3-3-4, Grady cf 4-2-2-2, Moore 1b 5-0-2- 1, Bell lf 3-1-1-1, David rf 0-0-0-0, Benefield 3b 5-0-0-0, Sosa dh 3-0-0-0, Wrobleski ph 0-1-0- 0, Boulware c 5-1-2-0, Jones ss 5-0-1-1. TOTALS 40-10-12-10.
INDIANA STATE (AB-RH-RBI) – Schaffer ss 3-1-1-1, Hanna rf 3-0-0-0, Wright c 3-0-0-0, Rivera df 1-0-0- 0, Fuentes 1b 4-0-0-0, Beck lf 3-0-0-0, Cusumano 3b 2-0-0-0, Sears ph-3b 1-0-0-0, Ross cf 3-0- 0- 0, Urdaneta 2b 3-0-0-0. TOTALS 26-1-1-1.
Dallas Baptist = 102 = 000 = 223 = – = 10
Indiana State = 000 = 001 = 00X = – = 1
E – Schaffer (9), Cusumano (3). DP – DBU 2. LOB – DBU 10, ISU 4.2B – City (13), Glenn (15), Moore (14), Boulware (6). 3B – Grady (3). HR – Glenn 2 (19), Grady (2), Bell (9); Schaffer (7 years old). SF – City (1).
Dallas Baptist = IP = H = R = ER = BB = SO
Eldred (W, 4-0) = 6 = 1 = 1 = 1 = 3 = 11
Sherlin = 2 = 0 = 0 = 0 = 1 = 1
Carver = 1 = 0 = 0 = 0 = 1 = 1
Indiana State = IP = H = R = ER = BB = SO
Drake (L, 2-4) = 2 1/3 = 2 = 3 = 3 = 2 = 1
Buraconak = 4 1/3 = 5 = 2 = 2 = 1 = 3
Ridgway = 2 1/3 = 5 = 5 = 5 = 3 = 3
HBP – by Sherlin (Wright). WP – Sherlin (4). T – 3:11. A – 321.
Game 2
INDIANA STATE (AB-RH-RBI) – Schaffer ss 5-1-1-1, Hanna II rf 5-1-1-4, Wright dh 5-1-2-1, Beck lf 4-0-1 -0, Rivera 1b 2-0-0-0, Urdaneta 2b 5-1-2-0, Magill c 5-2-2-0, Cusumano 3b 4-2-1-2, Ross cf 5-1-2 -1. TOTALS 40-9-12-9.
SOUTHERN ILLINOIS (AB-RH-RBI) – Cleveland dh 2-1-1-0, Weber lf 5-2-2-0, Peters cf 5-2-2-3, Neville ss 4-1-0-0 , Archer 1b 4-0-1-1, Walters 3b 5-0-2-1, Martin rf 4-0-1-0, Epps 2b 4-0-1-0, Rask c 3-1-2-1 , Blubaugh pr 0-0-0-0, Ulick c 1-0-0-0. TOTALS 37-7-12-6.
Indiana State = 000 = 206 = 010 = – = 9
Southern Illinois = 311 = 000 = 002 = – = 7
E – Beck (1); Epps (5). DP – ISU 1, SIU 1. LOB – ISU 9, SIU 8. 2B – Magill (2). HR – Hanna (5), Wright (16); Cusumano (3), Peters (6), Rask (1). SF – Archer (2).
Indiana State = IP = H = R = ER = BB = SO
Weaver = 2 2/3 = 5 = 5 = 5 = 3 = 2
Jachec (W, 1-0) = 3 = 4 = 0 = 0 = 1 = 3
Grauer = 3 1/3 = 3 = 2 = 2 = 0 = 3
Southern Illinois = IP = H = R = ER = BB = SO
Hansell = 3 1/3 = 5 = 2 = 2 = 0 = 1
Return = 1 2/3 = 2 = 3 = 3 = 2 = 0
Hall (L, 1-2) = 2 2/3 = 3 = 3 = 3 = 0 = 1
Lewis = 1/3 = 1 = 1 = 1 = 1 = 0
McDaniel = 1 = 1 = 0 = 0 = 0 = 0
WP – Weaver 3. HBP – by Hansell (Rivera), by Hall (Rivera). PB – Rask (2). T – 3:14. A – 445.
Next – ISU (30-17) plays the Dallas Baptist at noon EDT Sunday. If the ISU wins, the same teams will play again at 4 p.m. EDT in a win-win MVC Championship competition. Southern Illinois finished its season with a 40-20 record.